My 1D Anniversary: One Year as an Adult Fan
|
It's hard to believe that it's been one year. Seems like it's been much longer. But I'll never forget that moment. It was a quiet Saturday night.. December 20, 2014. I turned on Saturday Night Live, and lo and behold, One Direction was the musical guest. I admit I was slightly excited to see them perform. I always thought I was "too cool" to like a "boy band," but was finding myself really liking "Story of My Life" and "Night Changes" after seeing them perform those songs at award shows. I still wouldn't admit that I was becoming a fan. But once I saw Zayn Malik sing those sweet opening notes for "Night Changes," I fell in LOVE. Hard. And that was the beginning of my fandom experience. And let's just say… it truly has been life-changing. So, here's an ode to One Direction, and what they have meant in the life of this 40-year old fangirl.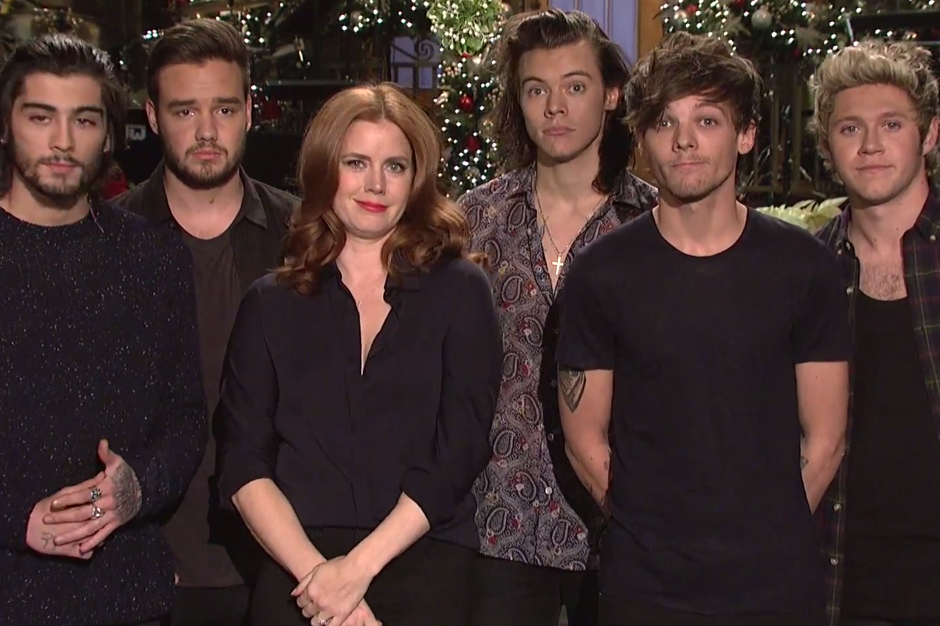 I'd been in a bit of a funk last winter, when I fell in love with the boys. Just gotten out of a relationship, was a bit numb. and needed something to make me feel again. And the boys filled that void. I've always been a fangirl, but "real adult life" like marriage, kids, and divorce got in the way of my fangirling. But I felt SO ALIVE again after witnessing the perfection that was the SNL appearance. To be so giddy about a band was exhilarating and intoxicating. I spent the next days listening to nothing but "Four" and Youtubing and Googling the boys, just to learn as much about them as I could. It was wonderful to feel so excited about something… it'd been much too long. I credit these boys (well, men) for helping me get out of a fairly serious depression.
My love for One Direction has made me more open-minded about music. I used to look down on pop, thinking my music taste was too refined for such "simple" music. How wrong I was. It opened my eyes to a genre that I've shunned, and now I'm a fan of many other pop artists. I've embraced Taylor Swift, Ed Sheeran, Adele, just to name a few. I never realized how much good music I was missing out on!
I fell in love with One Direction's perfect blend of rock and pop music. Even though I am much older than a typical fan, I related to their lyrics (at least some of them). I loved their perfect melodic hooks that stayed in my head hours after listening to their music. I pretty much listened to nothing but "Four" and "Midnight Memories" last winter. And I began going to more concerts again this past summer (yes, two OTRA shows)! Getting back to doing what I loved best (seeing live music) felt great… it was an old friend that I'd lost touch with for far too long.
As all of you reading this know, becoming a fan has led to many friendships. I've talked to many awesome fans, and even began writing for Trendom simply by becoming a part of the 1D fandom, which is something I truly love! The boys (through the magic of YouTube and Twitter) have also been great company on many lonely nights, making me smile when very few people (or things) could.
And as the boys begin their hiatus, the world as I now know it will change, but I can look back and feel nothing but happiness. No matter what happens with the boys' future, I can't thank them enough for bringing ME back… my inner music-lover and fangirl is alive and well again. And that feels incredible.
Here's to many more years of fangirling over the boys that have made me (and millions more) smile more than they'll ever know.
My 1D Anniversary: One Year as an Adult Fan
Click To Tweet