Let's talk about Dylan O'Brien.
He will make you feel all of the feels. I'd actually go so far as to say that he might be the most talented young actor of his generation—true, he's my #MCM so I'm a little biased. But watch O'Brien in any emotionally-driven role, and I think you'll agree.
Dylan O'Brien first caught my eye as the adorably quirky, geeky sidekick with a wit quicker than lightning on "Teen Wolf." I loved his character, Stiles (cute, funny geek is right up my alley), and he quickly became my main reason for keeping up with the show.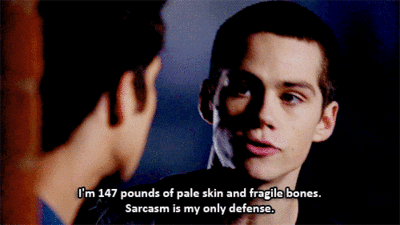 However, it was during season 3, episode 6, "Motel California," that I suddenly became aware that this goofy guy had a very, very incredible talent.
*slight spoilers ahead*
In this particular episode, O'Brien's character, who usually responds to danger and fear with biting sarcasm and humor, is forced to get serious when faced with the need to talk his best friend off of a ledge. "Teen Wolf" fans were blown away by the emotional moment, and suddenly, Dylan O'Brien wasn't just a funny, albeit talented sidekick character. In my eyes, this is the moment that he became an actor with a special talent who was to be taken seriously.
Watch the scene, below.
After this, he embarked on a much more intense journey with his character on "Teen Wolf"—the "Dark Stiles" era.
In his film career, he also ventured from fun, lighthearted roles in movies like The Internship and The First Time to the protagonist role, Thomas, in The Maze Runner franchise, based on the post-apocalyptic-style books by James Dashner.  His upcoming film, Deepwater Horizon, promises to pack a powerful punch, too.
Despite all of this, Dylan O'Brien impresses with more than just his acting career. A foray into his former YouTube channel shows that long before he began his professional acting career, he already had a knack for making people laugh.
In a way, it almost seems like he is his character, Stiles. He's clearly a laid back, wacky guy with a big heart and an even bigger sense of humor.
It doesn't hurt that he's also the king of the bromance. Dylan O'Brien and his relationships with his coworkers are honestly goals. Fangirls everywhere squeal in delight at how adorable he is with Tyler Hoechlin (Derek, "Teen Wolf").
Then there's his friendship with Tyler Posey (Scott, "Teen Wolf"). These two are as bro-y as it gets.
Oh, and we can't forget that all three of these guys are kind of ridiculously cute together. They lived together during the filming of the first season of "Teen Wolf," and even though they've moved on from that phase, they're still the best of friends.
O'Brien also has great (and funny) friendships with his co-stars in The Maze Runner franchise.
Incredibly attractive, talented actor with a great sense of humor and wonderful friendships. Do you need any other reasons to have a crush on Dylan O'Brien? Probably not, but I have one, just in case. He also happens to be a musician, and used to be the drummer in the band Slow Kids at Play.
I've really just begun to cover the reasons that I love Dylan O'Brien—there are so many more than those listed here. But I think I'll leave it up to you to figure out the rest of who he is… and fall head over heels for this adorable, hot, talented, kind, funny, cool guy.
#MCM: Dylan O'Brien
Click To Tweet