Live musicals have become somewhat popular on TV these days. Whether this is a good or bad thing is highly debated by the audience, but Sunday night's Grease: Live on Fox was a success. Grease exceeded all expectations, even when I thought they had completely cut out Hopelessly Devoted To You (they didn't, bless up). From the perfect cast, choreography, amazing set, and impressive camera work, here's what made Grease: Live succeed!
Julianne Hough played a great Sandy. She had the innocent Sandy act down pat and pulled off leather pants better than anyone else. Hough's portrayal of Sandy was so good, I completely forgot the fact that Sandy was from Salt Lake City, Utah instead of Australia. An odd choice but by the final number who even remembered that tiny detail when Sandy was absolutely killing it in We Go Together.
Aaron Tveit as Danny Zuko was incredible. John Travolta is the ultimate Danny Zuko, but Aaron Tveit put on quite the show. He is an excellent singer and dancer, but let's talk about his attitude! He embodied Danny with every step he took tonight.
Julianne and Aaron were adorable together. Was anyone else grinning ear to ear watching them make cute faces at each other while doing the hand jive?! Too cute.
Although it's hard to look at Vanessa Hudgens as anyone other than sweet, innocent Gabriella from High School Musical, I think she did a commendable job as Rizzo. Rizzo has two great songs, Look At Me, I'm Sandra Dee and There Are Worse Things I Could Do, and Vanessa sang them both flawlessly.
Vanessa lost her father to cancer the night before the show, and dedicated this performance to him. She did an incredible job in his memory.
Kenickie, played by Carlos PenaVega, was great. His friendship with Danny was believable and he flawlessly delivered "a hickie from Kenickie is like a Hallmark card."
The Pink Ladies and T Birds each had shining moments. Keke Pamler's performance of Freddy My Love as Marty left me speechless, and Jordan Fisher's Doody singing Those Magic Changes was fun.
How about when the original Frenchie was giving the new Frenchie (Carly Rae Jepsen) life advice?! That made this moment even more special.
Then there was Grease Lightening. Where do I even begin? I love the song, even with the lyric changes (necessary for TV, I know) but what was really impressive was the choreography. Check it out for yourself. I'll be in my apartment working on this choreography for the next month.
https://www.youtube.com/watch?v=e9s9_a1-oXo
Grease: Live didn't stop at shining with the just main cast. The set pulled out all the bells and whistles, including cars, high school gyms, a carnival and over 600 cast members. The audience really added to the overall performance. Dressed like they attended Rydell High, the background cast interacted with every performance through the entire show. Even the occasional spilt screens during moments like Summer Nights were impressive.
The live show even featured a range of celebrity guests. Jessie J opened the show with Grease (Is The Word) as she danced through the streets in front of Rydell Hight.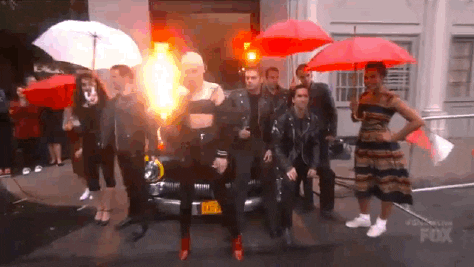 After an original song by Carly Rae Jepsen, Boyz II Men sang Beauty Song Drop Out. DNCE played the roll of Johnny Casino and The Gamblers. Joe Jonas sounded pretty good during the entire dance scene. If you listen close enough, you may have noticed they sang a special Grease version of Cake By The Ocean.
Lastly, Mario Lopez played Vince Fontaine, the host of American Bandstand. It seemed only fitting that Mario Lopez play at 1950's version of himself. Scenes of the dance were even in black and white as if we were watching it on TV in the 50s. Once again, excellent work by Grease: Live.
All in all, Grease: Live was a hit. Hats off to the cast and crew! I can't wait to see what the next musical will be, but will it ever top Grease: Live?! I can only hope.  Until then, enjoy We Go Together!
https://www.youtube.com/watch?v=j7-KRfULhoE
Grease Is The Word! #GreaseLive
Click To Tweet