Apple Music Festival 2015~1D and Little Mix Join Forces
|
Apple Music Festival Performers
One Direction were chosen as a headliner for the 2015 Apple Music Festival and performed their set on Tuesday evening. Little Mix was their supporting act, which is something that I have been waiting for since both bands have been on the music scene. So, if you weren't able to watch live, don't worry, we've got ya covered!
Little Mix is All Grown Up
Up first, Little Mix was absolutely incredible! From the set list to the costumes to the choreography, the show was flawless! The setlist included some classics like Move and DNA, a preview of the new single Love Me Like You, and an amazing first performance of Grown. I always adore their acapella numbers and The End was no exception, but Grown is quickly topping my personal hits list. Can we get these songs on our iTunes now please?!!
https://www.youtube.com/watch?v=LTz5mAakzP0
https://www.youtube.com/watch?v=kShokApQFaY
The costumes were on point as usual. Jade's was def my favorite because I am obsessed with cute, tulle skirts. Perrie's white fringe was super cool in an unexpected way. Leigh-Anne and Jesy were also amazingly beautiful and stayed true to their signature styles.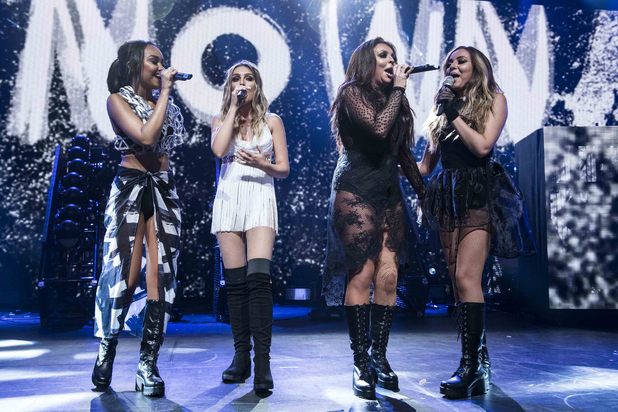 Don't miss their new, upcoming single, 'Love Me Like You,' which is available for preorder now and will be released on September 25.
1D Takes Over….. Again
I'm sure that everyone is aware, but 1D has a little habit of dropping new songs/AN ALBUM on the world like it's as easy as sneezing, causing absolute chaos. Yesterday was no exception. It must not have been enough for the boys to perform at the Roundhouse in London, as they had to go and drop a new album track and announce an album name too! Today's been a busy week for us.
The boys new single is called 'Infinity' (in case you somehow haven't heard) and is now available on iTunes and Spotify. The boys also announced that their fifth studio album is called Made in the A.M. and will be available to download on November 13. The boys made their announcement via a video on Twitter and then tweeted out links shortly after.
P.S. ICYMI 1DHQ now has a snapchat!! Just search "onedirection". You're welcome.
On to the actual show where the boys kept to their usual stadium performance type of feel, but performed for a more intimate audience. The song choices were pretty expected but Little Black Dress was an unexpected twist. My favorites included Where Do Broken Hearts Go and Night Changes. The banter between the boys was as entertaining as ever. They even sang Happy Birthday to a lucky fan! Happy Birthday Chloe! My personal favorite moment was when Harry let the cat out of the bag and told the audience that Gemma was on a date, somewhere in the crowd. At one point, Niall disappeared backstage because of the heat but reassured us this morning that he is absolutely fine and that no ambulances were necessary.
https://www.youtube.com/watch?v=Xjmfa6AY-Dw
https://www.youtube.com/watch?v=WnanFQXaccw
There was no ambulance don't worry.. I just overheated on stage and didn't feel well https://t.co/ORfzQqpnmU

— Niall Horan (@NiallOfficial) September 23, 2015
The boys also sat down with Beats 1 to do a pre-show interview. They talked about 1D post-hiatus and how this is an opportunity to hit the refresh button, as well as career paths and what the future holds. The interviewer also asked about the new album and the process that was behind it all. They also talked about how this was their second time performing for Apple Music Festival (the first was back in 2012) and that they are finally back in London. Mostly, it was the boys talking over each other while the interviewer tried hard to get a straight answer out of them. My favorite kind of interview! Next up for the guys, six nights at the 02 arena in London. Are you as excited as we are??! Eeekk! To everyone going, have a blast!
Apple Music Festival 2015~1D and Little Mix Join Forces
Click To Tweet